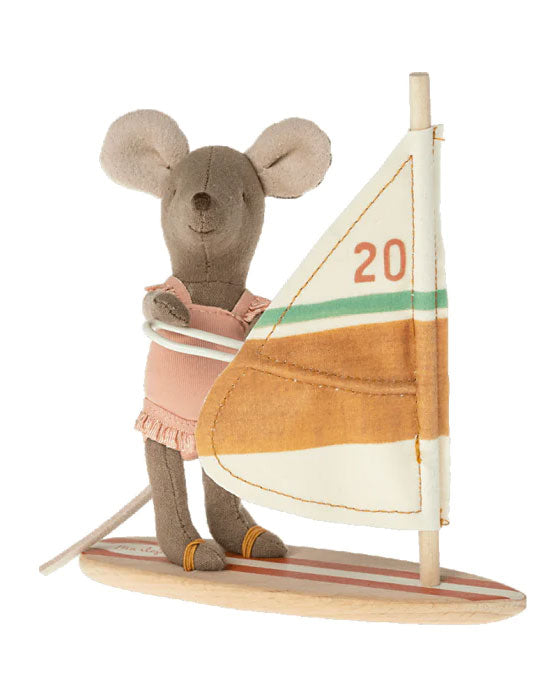 Maileg
Beach Mice, Surfer Little Sister
This little sister mouse is ready for a day at the beach. She is wearing a swimsuit and brings her surfboard so that she can spend time in the sea catching waves.
A sweet little sister mouse (10 cm) in bathing suit with Surf Board.  Surfer little brother also available.
Dimensions: Height 14cm, Width 12cm(surf board) (Mouse 10cm),
Little Sister/Brother Size, MY accessories work with this size mouse
Maileg Beach Collection
Suitable for ages 3Yrs+
About Maileg
In a busy world of bright lights, bells and whistles, where new stories are continually impressed upon us… Maileg is a world in which matchboxes can be beds for mice; princesses make perfect teatime companions; and adventures can be found on a friendly forest walk. It is a world where cats and mice are friends. Ours is a world of childhood imagination - and this is a world we value.
Maileg (pronounced My'lye) is a brand of charming Danish-designed toys created to inspire our children's favorite playtime stories. By bringing storybook whimsy to everyday moments, Maileg toys help children explore the pure and simple wonder of imagination. Beloved for their heartwarming personalities, Maileg toys show playfulness and charm in every last detail. Theirs is a timeless world filled with beautiful accessories and settings to be collected, cherished and shared with friends and family for generations.
---
More from this collection